If, like most people, you have a sweet tooth, something like brownies might usually be your undoing. It's even harder when you are on a weight loss plan that limits your sugar intake but you're in luck!  With the below healthy protein brownies recipe, you can at least relax knowing you're getting plenty of health benefits, including protein, while indulging in each and every bite.
Healthy Protein Brownies Recipe:
To begin, preheat your oven to 350 F. While you're waiting for it to warm up, mix the following into your food processor:
1 1/2 cups of Drained and Rinsed Black Beans
3 tbsp regular or Dutch cocoa powder
7 tbsp Chocolate Protein Powder
1/3 cup Honey, Agave or Maple Syrup
3 1/2 tbsp Coconut Oil
For taste, you'll also need:
2 tbsp of Stevia (or Sugar)
½ tbsp Baking Powder
1 tbsp Pure Vanilla Extract
Pinch of Salt
When that mixture becomes completely smooth, it's time to mix in 1/3 cup of organic chocolate chips in a bowl.  You can go all the way to 2/3 if you like it extra with extra chocolate. Leave them out of the processor though because they taste so much better whole and most people enjoy biting into them but its up to you and your personal preference.
Once you've stirred in the chocolate chips, pour the entire contents of the bowl into an 8 x 8 square pan that you've prepared with grease so the mixture doesn't stick to the pan while baking.  Put the pan in the oven and cook for 16 minutes.
After taking them out, they may appear a bit underdone at first, but don't worry they are done. Let them cool for a few minutes before patting them down with a spatula.  Then put them in the refrigerator overnight and in the morning your healthy protein bars will be ready to cut, eat and enjoy.
Healthy Protein Brownies Nutrition Facts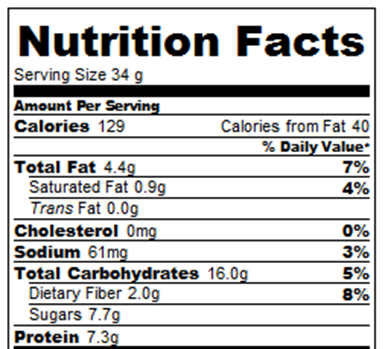 Source: http://bit.ly/ZMnDzJ
The healthy protein brownies was calculated based on 10 bars using gram measurements.